Steerable FNA biopsy needle, 21G
Your first choice for deep-seated targets
Morrison Steerable Needle® is the first steerable needle enabling active guidance around objects within the body.
Steer distal end of needle with live feedback under image guidance
Curve around sensitive structures and dangerous areas
Facilitates precise needle placement
Multipurpose needle for aspiration, injection and biopsy
Using Morrison Steerable Needle® it is possible to:
Make major adjustments around bones, organs or neurovascular structures
Make minor adjustments near target
Make multiple adjustments as needle is advanced
Available in the USA only. For international version, click here.
Morrison Steerable Needle® 21G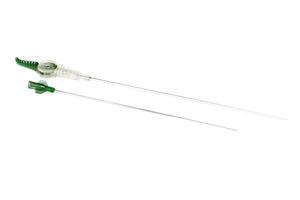 Morrison Steerable Needle® 21G
Steerable stylet
Needle (ID 0.68 mm, OD 0.82 mm (21G), length 17 cm)
Sterile, single use
Ordering information:
13550 Morrison Steerable Needle® 21G
MOQ 10 units
Articles and references
J. Scott Kriegshauser , M. Grace Knuttinen, Nan Zhang, and Rahmi Oklu. Use of a steerable needle for CT-guided nerve plexus blockad. Abdominal Radiology 2018
Sandra Rutigliano, MD, John A. Abraham, MD, Barry E. Kenneally, MD, Adam C. Zoga, MD, Mika Nevalainen, MD, PhD, and Johannes B. Roedl, MD, PhD (2017).Analysis of a Steerable Needle for FNAB. J Comput Assist Tomogr 2017;00: 00-00
Palisch, A.; Patel, R.G.; Gutowski, C.; Zoga, A.C.; Colucci, P.; O'Hara, B.J.; Roberts, C.C.; Abraham, J. (2016). Analysis of needle type for musculoskeletal lesion biopsy: results of a novel steerable needle. Current Orthopaedic Practice, 27(4), 393-399.