Coaxial needle
Safe & effective needle placement for hard-to-reach targets
Gangi-HydroGuard® combines the well-known technique of a coaxial biopsy needle with an all new spring loaded blunt tip stylet providing more control during soft tissue biopsy.
The spring loaded blunt tip stylet:
Enables penetration without removal of the blunt needle
Provides visual and tactile feedback
Blunt tip:
Coaxial blunt tip stylet helps reduce the risk of damage to vasculature or other organs
Coaxial biopsy needle:
Provides the ability to cut through tissue
Centimeter markings on needle for easy depth evaluation
Echogenic marking on cannula allow for precise ultrasound placement
Available in selected markets only. Not available in the USA.
Gangi-HydroGuard® 15G
Needle (ID 1.73 mm)
Blunt springloaded stylet, Trocar stylet, Reference guide
Total needle length: 12.1, 17.1 cm
Free needle lenght: 9.6, 14.6 cm
Suitable biopsy device size: 16G
Sterile, single use
Ordering information:
HG15-121 Gangi-HydroGuard® 15G, 12.1 cm
HG15-171 Gangi-HydroGuard® 15G, 17.1 cm
MOQ 5 units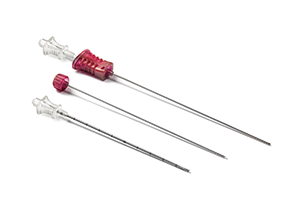 Gangi-HydroGuard® 17G
Needle (ID 1.33 mm)
Blunt springloaded stylet, Trocar stylet, Reference guide
Available needle length: 12.1, 17.1 cm
Free needle lenght: 9.6, 14.6 cm
Suitable biopsy device size: 18G
Sterile, single use
Ordering information:
HG17-121 Gangi-HydroGuard® 17G, 12.1 cm
HG17-171 Gangi-HydroGuard® 17G, 17.1 cm
MOQ 5 units
Articles and references
Roberto Luigi Cazzato, Julien Garnon, Behnam Shaygi, Jean Caudrelier, Salem Bauones, Georgia Tsoumakidou, Guillaume Koch and Afshin Gangi (2017). Performance of a New Blunt-Tip Coaxial Needle for Percutaneous Biopsy and Drainage of "Hard-To-Reach" Targets. Springer Science+Business Media New York and the Cardiovascular and Interventional Radiological Society of Europe (CIRSE) 2017